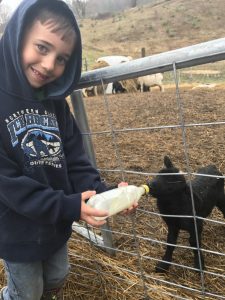 OK, I'll own it.  I'm a sucker for lambs.  I wait every year to see what colors they'll be and how many each ewe will have, and how strong and amazing they'll be (they stand in minutes and often jump around within hours…it's awe inspiring).
Lambing season isn't all sunshine and roses, despite the pictures that end up on Facebook.  Sometimes lambs die and sometimes they struggle.  Sometimes the moms reject them and sometimes it keeps me up at night.  Years like we're having this year, it seems like spring will never come and the green grass is so far away.
You know what gets me through that?
Visitors!
Everyone loves to see the lambs and when we moved out of town to our new home, it felt like we should create a new opportunity to share happenings with friends, family and neighbors.  Thus our Lamb Open House event was born.
Come join us Saturday, May 5!  We'll have refreshments and barbecue and activities…and lambs too!
P.S. And please register to help us plan! Thank you!