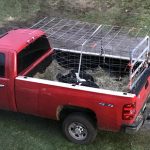 This weekend we harvested the first of our own pigs since 2013. Gosh I missed them.
These piglets were born in Washington, Vermont, just about 30 miles away.  They rode in a hay-lined truck to Randolph, and spent the rest of their lives rooting and snoozing and companionably sniping at each other over the food dish and the special treats I tried to spread around so no one got too much at the expense of the others.  They are Saddleback pigs; a very old breed being rebuilt by the careful efforts of our friend Matt Whalen at Vermont Heritage Farm.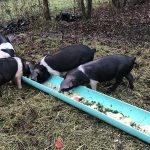 The pigs spent the winter growing, rooting, napping, finding bricks, flipping tires, and unearthing the roots of the collection of trees they sheltered in.  Did I mention rooting?
In the deep cold of winter, they dug into round hay bales and buried themselves up to the nose.  They didn't quite hibernate (how do you get the good snacks when you sleep through?), but pigs are a lot like people.  If they don't need to go out in the cold, why bother?  It's nicer in here.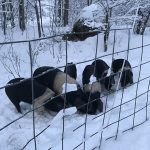 Some people may wonder if pigs are adapted to Vermont life outside in our winters.  Prior to our recent five-year gap, we've raised Fall pigs for over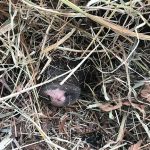 ten years.  They do beautifully, especially when an old-style, heritage breed is used.  Pigs suffer in the heat.  They have very few sweat glands, which is why lying in a mud hole to cool off is such a preferred thing to do on a summer's day.  In the winter they just pile, lying lined up like a row of very large black and white hot dogs.
By spring, they were two (or three or four) times the size they had been when they arrived in November.  Jiggles in all the right places.  Tree roots exposed for our selective cutting next month.  Vegetation opened up and ready for a new seeding under the thinned trees.  The sky was blue, the Spring birds back.  It was time.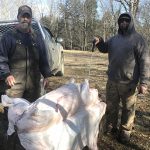 The pigs were killed on the farm by local itinerant (on-farm) slaughters, which is a term for a craft largely forgotten.  These fellows are amazing.  The care with which they treat each animal, their quiet calm manner, and their efficiency in skinning and eviscerating are all skills built ove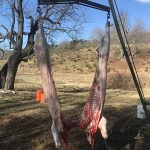 r a lifetime watching their father and grandfather (who are legends in our area). I missed them so much, too.  Mark and Matt and I talk about what we see on farms and they tell me about sugaring and Mark's recent trip to Florida.  They arrived at 7:30 am on the dot and were packed and driving away at 9:15 (that's even with chatting).  They had taps to check and I'm sure many other things to get on with during a busy Saturday.
We cooled the pigs in the trailer overnight and Sunday morning, Cole Ward the Master Butcher came to cut them for us.  Cole is one of my favorite humans ever, and very literally a treasure to those who know him well.  He is kind, and thoughtful, and so, SO talented at teaching butchery.  We decided this time not to do a workshop as we have some times before, but Cole can't help it.  He loves to cut and joke and tell stories about his days working a meat counter near the CBS Studios in L.A., and all of the personalities that came to buy meat from him.  We learn so much, every time.  A real butcher, a true master butcher, is that person with every recipe conceivable for each cut. The person who can tell you how to grill this muscle but not that one, and explain why your sausage won't bind or your ground beef has crunchy "bone chips" in it (it doesn't, but there's a reason why the texture is wrong).  We've become accustomed to cuts only available when you cut your own animal,
and it's a darned good thing he's been teaching us, because I'm not sure we could go back.
Chris and I spent the day trading off vacuum sealing duties in the cool basement, while a small group of friends and family chatted with Cole, tried to "out joke" him, and ate sausages with mustard.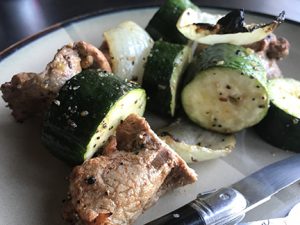 Tonight we ate some of the best–if not THE best–pork I ever had or raised.  Sure, that might be related to the long, long wait of the past five years, but I'd like to think this was in many ways a sign of a good life, from beginning to end.  Thank you fellas.  We'll honor and appreciate you, every bite.