The sheep are getting a snack again.  I have a view from my office window and have been working at home a lot this Spring.  This affords me a clear view down to the sheep pen and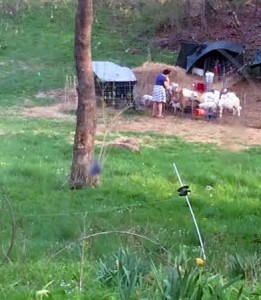 coincidentally a front-row seat to who's visiting today.
There are Martha and Emily, two neighbors with short-legged, big-personality dogs.  There's Mary who buys carrots on sale and comes in to distribute whole bags at a time.  There are the teenagers who seem to know every lamb by name and watched some births real-time this year. Lindsay and Sarah even picnicked this Spring on round bales with some friends from around the corner; spreading blankets and eating granola bars on top of the plastic-wrapped marshmallows.  Earlier today I watched some visitors put one of my lamb jackets on their dog and take its picture. I had to look twice—I thought a lamb was out of the fence!
Then there are the people walking their dogs who wave but don't stop.  The multi-generational family from grandparents to baby who stopped to introduce themselves as new in the neighborhood.  One longtime resident brought chairs so that she and her granddaughter could watch the lambs in comfort.  There are the cars that creep by with faces looking out the window and the shy smiles and waves.  Last weekend we hosted a Girl Scout troop.  The Randolph Police cruise the neighborhood multiple times each day and a little part of me thinks they do it to check on the lambs and not just because it's their regular sweep schedule.
The sheep have always been a sort of ambassador service for us.  I'm an introverted outgoing person (I promise this IS a thing!) and I'm not good at dropping in or going to parties where I don't know people.  My family is even less outgoing.  What better way to meet people than talk about the sheep?  Their sweetness, their pushiness, the ability to name them after friends and family and fun inside jokes.  The sheep have created novelty and amusement for many, and a social entry point for us.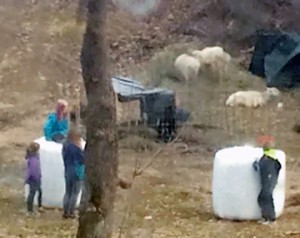 Now we have a farm under contract.  It's not a done deal, but signs are pointing in the right direction.  This means that we'll be moving to a new home later this summer, which is very exciting and hopeful, and a little more bittersweet than I expected it to feel.  Originally we thought we'd move in to this little rental and just be here for six or eight months before buying a new place.  Turns out, life had some other plans for us, and that's OK.  We've met some lovely people and they've really helped this neighborhood feel like home.  There's so much to be grateful for here.
Thank you all.  We're only moving a mile away so even if it's not convenient to walk the dog by us every day, hopefully you'll still come visit from time to time.
And bring some carrots.
Jenn