Has It Been Eight Months Already?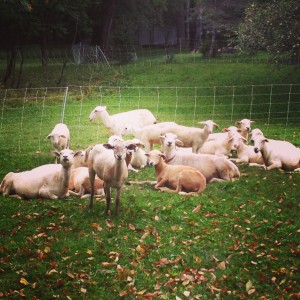 Somehow we turned around and now it's February, 2016.  For those keeping track (and wondering what the heck we've been doing), we've been busy. Seriously, it's looked a lot like this (and no, this is not our farm).
Since last June we've written our business plan twice, had a farm under contract then terminated it, applied for a land trust farm opportunity, secured a whole host of support letters, did some leased-land grazing, were featured on Vermont Public Radio, sold lamb and barbecue, and waited.  In late January, we heard that the land trust option wasn't going to work out and several new farm choices arrived within the week.
The experience of the last ten months (starting with the Slow Money event in April) has been revealing.  We both feel that the Universe is in our corner when it comes to bringing us what we want, and its been presenting us with real variety to evaluate.  Back in 2012 we looked at a place with a great house and little land; then we progressed to enough land with an unfinished house; a terrific barn and land with a workable house but an unworkable purchase price; and a delightful turn-key operation with a fantastic grazing system already in place.
Our son has rolled his eyes at us a bit ("another farm?"), but looking back I can say that I'm glad we've had these experiences.  We want a finished house.  We don't require a fabulous barn or extensive infrastructure.  We want to live near town, but feel rural.  Deep down, I want to develop my own grazing system and document the transition from fallow land to productive land. It must be affordable. These experiences have separated out the chaff.
Earlier in the process, I admit that I fell in love a lot.  Some portion of love needs to be there in order to bring what you want to you, but I mean that I really fell in love.  One farm in particular was hard to walk away from; I think I'll always have a little ache (maybe until that ache is filled with THE farm) for that one.  My brain and my heart have now merged into what I think of as a positive pragmatism.
Today, I feel like I'm progressing more on faith that it's going to work out.  Despite the dramatic eye rolling, it feels like we get closer and closer.  People are in our corner rooting us on.  The support letters written last fall were humbling and bring me close to tears when I think about them (thank you again, dear supporters in Vermont agriculture).  This is a little less love and a lot more tingle.  It's coming.  Maybe it's here.  I hope so.
No matter where we are and what happens, the sheep are due to start lambing in April.  I'm looking forward to that, wherever we are.
–Jenn