This will not come as a surprise to anyone who knows Jenn and I, but we have a lot of cookbooks. Not a crazy "I need a curator for all of my books" amount, but a lot. And, even less of a surprise, I have a lot of cookbooks about grilling and barbecue.
One of the plans for my part of this blog is to do periodic cookbook reviews. To get this started, I thought that instead of reviewing the latest and greatest cookbook, I would offer up a review of the cookbook that opened the door and took me into the amazing world of cooking with fire: The Thrill of the Grill (TTOTG).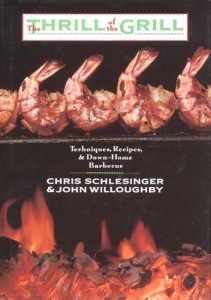 My grilling bible was written in 1990 by Chef Chris Schlesinger and writer John Willoughby, five years after Schlesinger opened the East Coast Grill in Cambridge, MA.  The East Coast Grill was one of the first restaurants to successfully introduce New England city folk to the joys of barbecue. From his "custom-designed open-pit wood-fired grill" he tested a brand of "culinary adventurousness" that set The Thrill of the Grill apart from other cookbooks.
For a beginner like I was when I first read the book, The Thrill of the Grill was one of the first books to tackle grilling in a way that seemed approachable and exciting. In it's opening chapter, Schlesinger and Willoughby put the reader at ease with a chapter entitled "grills just want to have fun." Their tone throughout the book feels like an invitation to sit down with them by a smoker and enjoy a nice cold beer in the shade. The opening chapter included what is commonplace in every barbecue and grilling cookbook I own – an simple overview of equipment, fuel, tools and how to work your fire. Laura Hartman Maestro's line drawings (used to illustrate much of the book) have a gentle simplicity which again, makes the reader feel at home. Coupled with photographer Vincent Lee's stunning photography, the book is a sight to see.
In the end, it comes down to the recipes – the meat of the matter–so to speak. TTOTG's recipes cover the geographical map. Much of the book is a tale of where Chef Schlesinger has been. Raised in the south (Virginia), he presents dishes like North Carolina Pulled pork and Outdoor Pork Baby Back Ribs. He includes classics from his own table like Grandma Wetzler's Baked Beans. In the 1970's, Chris spent time in Barbados, immersing himself in the culture and the food. From those experiences he brings flavors and ingredients of the Caribbean to his restaurant, and eventually into the cookbook. Tastes like Grilled Shrimp with Pineapple and Ancho Chile Salsa and Tortillas, Tropical Gazpacho (which is unbelievably good) and one of my personal favorites – West Indies Spiced Chicken- weave the reader through Chris Schlesinger's culinary history. The blending of traditional grilling and barbecue techniques with Southern and Caribbean flavors is a perfect concoction.
I remember going to the East Coast Grill while I was living with my father in Cambridge, MA during high school. I vaguely remember that I enjoyed the food, but it wasn't until Dad treated me to his rendition of the aforementioned West Indies Spiced Chicken with Grilled Bananas (Grilled fruit? Who did that?) that my mind was truly opened. Never had I had anything like that. The chicken rubbed with the likes of curry, cumin, allspice and cayenne was powerful and spicy, the banana, basted in butter and molasses playing the perfect sweet, soothing counterpoint.
The popularity of grilling and barbecue has led to a flood of cookbooks seeking to teach you the techniques of cooking with fire. Happily, a number of them are good, some are even great. But, The Thrill of the Grill remains one of the most culinarily sophisticated and creative cookbooks I have ever read, rivaled only by recent releases from Pitmaster Chris Hart and Chef Andy Husbands (Wicked Good Barbecue and Wicked Good Burgers) who, unsurprisingly, worked with Schlesinger back in heyday of the East Coast Grill. If I had to recommend a cookbook that would provide you with adventure and excitement as you navigate your grill, I would suggest you look no further than the Holy Grail of my grilling cookbook collection – The Thrill of the Grill.
Thanks for reading,
Chris