Registered Rams: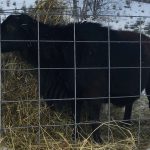 In order to make room for some new bloodlines in 2018, we are selling some rams that have been excellent for us.
Shepherd Book TFR 1512 (born June 2015)
Lineage–WVF-4-282 X TFR 1402.  He has grown to a nice full size, with only periodic grain in very cold weather.  Book is trained to electric net fence, grazes well, and is a better fit for an experienced shepherd.
---
Captain MOF 1231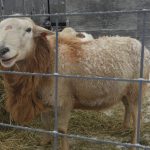 Lineage–MOF 0803 X NWT 259. (Born March 18, 2012)
Captain is a gentle giant.  He's kind with young rams and the ladies, is very solid bodied, and bred ewes on steep slopes last Fall. He is around the 94% percentile for FEC, per NSIP.
---
Commercial rams:
None for sale at this time.
Ram rental:
Please contact us to discuss.
Registered ewes:
None for sale at this time.
Commercial ewes:
None for sale at this time.
Lambs:
In 2018, we will be holding all lambs for breeding stock and/or meat customers.  We are happy to put you on a list for future opportunities. Contact us.