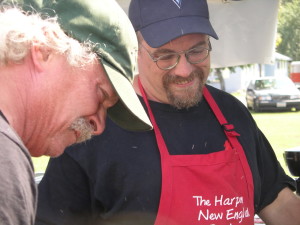 Howling Hog Barbecue is a family-run competition barbecue team started by Chris in 2005.  Inspired by a particularly fantastic rack of ribs prepared by Jenn's uncle Hank (a.k.a. Old Bull), Chris decided, "Hey, we can do this!".  The journey of the last ten years (2015 marks our eleventh competition season) has brought us some ups and downs, deep friendships, lifelong stories, and excellent food.
Through it all, we have been grateful for the support of our friends and family through a sponsorship program we have developed.  In all honesty, we wouldn't have gotten this far without them.  It's been a real pleasure for us to cook for them and see our tshirts worn by friends…and judging by their reactions to our 'cue, the feeling is mutual.  Pretty wonderful circle, all around.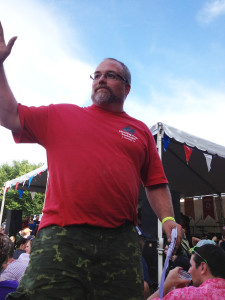 If you'd like to purchase your own HHBBQ items, where a portion of the sales go to help support us, we just set up an online store for for the farm and the barbecue team.  Heck, you could even be mistaken as staff!  You might have to prep some lettuce if you're not careful.
Want to become a fan of Howling Hog?  Here's the HHBBQ Facebook page.