Pork
We will have 20 lb. boxes of mixed pork cuts available for our Lamb Open House event (RESCHEDULED TO) May 5, 2018.  Boxes will be priced at $150 and can be reserved (and even paid for) ahead of time. Be warned–they are in limited quantities!
We have our inspected animals processed at The Royal Butcher, LLC, a USDA-inspected processing plant located two miles away.  The Royal Butcher is an Animal Welfare Approved slaughter facility (abbatoir).
Lamb and Breeding Stock
We are taking deposits on freezer lamb for 2018.  For your future planning typically a lamb will yield 35-40 pounds of packaged meat and bone (which makes the most *amazing* stock!).  The cost is $9.25/lb. based on the hanging weight, and will be cut to your specifications at The Royal Butcher.
A deposit of $50 will reserve your lamb. We also offer hogget (also called yearling lamb), which is 12-14 months old, finished on fresh pasture, and will get you a greater yield (meat to bone).
We are very happy to work with time payments…just contact us to figure out a plan that works for you.
Available now!
Our first official sheepskins, tanned by the lovely folks at Vermont Natural Sheepskins in Randolph.  Their entirely natural process (certified organic in the UK) is unique in the United States and contains no toxic residues (so it's safe for your family).
HWFarm VT Store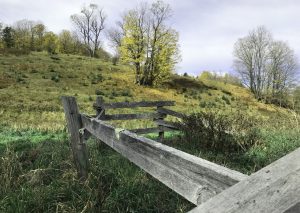 Would you like to wear a Howling Hog BBQ staff shirt, or send a Vermont hill farm postcard?  In love with farms and Vermont in general?  Check out our custom-printed items, shipped directly to you.  From stunning landscapes and close up farm moments, there are plenty of images to choose from.