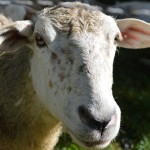 622
Yes, it's true that she has a number and not a name, but 622 really is her name to its fullest.  She's Mom and Grandmom and Great Aunt to most of the flock.  She's got a little more Dorper in her than most and it shows in the kemp (curl) of her coat.  Right now she's curly and wooly.  Soon her wool will fall out (yay, Spring!) and for a time her skin will show through pink and fuzzy.  Something about her coat–maybe it breaks too close to the skin, maybe the curl just means it's thin.  Either way she gets a little sunburned when the winter coat comes off.  Something like a rite of spring.
622 is my model for many reasons: She is short and wide.  She eats constantly and picks through for the best.  She is an excellent mother of one, two or three lambs.  She's friendly and patient and well trained to electric fence.  I don't know how long she'll keep giving lambs, but as long as she's up for it, I am. Her daughter River Song (1408) has been kept to build the flock.
---
618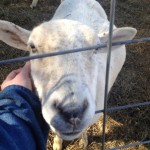 618 is another of my founding dams, unrelated to 622.  618 was a little standoffish with me at first, but we soon discovered that she really liked her chin scratched *only when she's pregnant*, and after that we were friends for life.  Photographs of 618 have been featured in the Randolph Herald and the Center for Sustainable Agriculture's annual postcard largely because she is a weed-eating MACHINE, and also because she's cute.  618 is thinner than my other girls and shows her age a little more but she's raised triplets consistently without help.  Her daughters Amelia Pond (14xx)  and Mrs. Banks (1507) have been kept to build the flock.
If you'd like see some postcards of 618 eating chervil, you can see them here.
---
720

720 is my co-pilot.  She's my ambassador and my lead ewe.  If I've got 720 in my corner, everyone else will come along as well.
She's happily accepted treats from kids in the neighborhood and she represented her breed at the Vermont History Expo.  The kids didn't like calling her by her number, so they've given her the name "Friendly".  I love it.  She's given triplets every lambing and she's raised them without assistance.  She's a taller ewe than I am selecting for, but she's a weed vacuum and a personality.
---
Lucy (1025)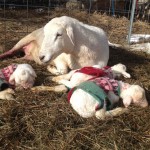 Lucy is 720's daughter and looks very much like her except that Lucy is 1/2 Dorper (her father Bently came from Sloping Pastures Farm in Tunbridge, VT) and is a shiny white.  Visitors have said that she "glows".  Lucy is nearly as friendly as her mum and enjoys hanging out with the kids when they come over.  Lucy is the only remaining lamb from my first year of lambing (2010) and will always hold a special place in my heart as 1) 720's daughter and 2) the lamb first born to Howling Wolf Farm and given a name. Lucy has such a sweet face and personality, that I put her on a mug.  In 2015 we decide to keep her daughters Mary (1503) and Poppin (1502) to keep in the flock.
---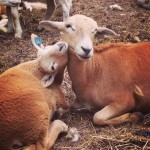 Martha Jones (1114)
Martha was named for the fabulous companion of Doctor Who.  Her mother, 711, was the finest of my four foundation ewes.  In 2011, Martha and her brother George were the hands-down biggest, most incredible lambs of that year.  I took a two-year break from lambing, but Martha's 2014 lambs were totally worth it.  She raised both ewe lambs at .6+ lbs. gain. day on just grass and hay.  We lost one to parasites very surprisingly, but the other has grown into a fine young ewe.  Martha's genetic line promises to be high value and VERY high production.  Two weeks after she weaned the lambs, her body condition was back to pre-pregnancy condition.  Awesome. In 2015, she had two ewe lambs, Miss Andrews (1508) and Miss Lark (1509) who we've added to the flock.
---
River Song (1408)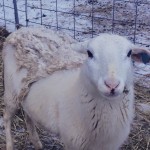 River is the daughter of 622 X Ivan.  She started small but solid and I decide to wait until her second year before breeding her.  I'm glad that I did, because she is starting to physically resemble her short, wide mother every day.  In 2015, River shed her hair out very poorly which looked very much like her human namesake's hair.  Technically, this is a fault in the breed, but she raised a very nice ewe lamb named Melody in 2016.  Even if River doesn't stay with the flock as registered breeding stock, she could still live a long and productive life producing nice quality lambs for your tables.
---
2015 ewe lambs who stayed in the flock.
They include:
Poppin (1502)
Mary (1503)
Mrs. Banks (1507)
Miss Andrews (1508)
Miss Lark (1509)
Each of these girls was sired by our registered Katahdin ram, Mal.  They are mostly white, with the exception of Miss Lark's side spot.  In case you didn't notice, the play Mary Poppins figured heavily into our theme in 2015. 🙂
---
2016 ewe lambs sticking around:
Jeri (1603)
Danaerys (1608)
Freckle (1609)
Melody (1611)
Clara (1612)